So here I am, in week 3 of my postpartum weight loss journey, and linking up again (only a day late!) with Mommies on a Mission!!! Yay!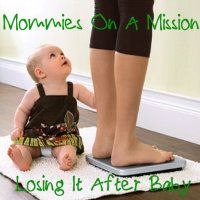 Weeks Postpartum: 9
Last weeks weight: 144
This weeks weight: 144

Yup folks, that is a total weight loss of ZERO pounds. Siiiiiiiigh :*(
That's not to say that I have fell off the wagon or am not trying...I am SOOOOO trying! I feel like punching the scale in it's stupid little metal face right now....grrrrr.
I'm not sure what the heck happened this week...the Couch to 5k program has been going great. John and I have both been very committed to it, and supporting one another in the journey. What hasn't been going so great is my eating :/ UGH!!! I feel like I'm eating very healthfully, but this past week I have been more hungry, with a bigger appetite. Ivy has cluster fed in the evenings a couple times this week, so maybe my body is telling me I need to hold on to some calories to make more milk? I don't know. I need to just be honest and say after loosing 3 pounds last week, I'm super discouraged this week. I feel like I'm at the bottom of a mountain just staring at the peak that is SO. FAR. AWAY. I almost want to give up at times; say screw it! and chow down on some ice cream with hot fudge and go buy some bigger jeans...have you ever felt that way? Does anyone out there understand that feeling? But I just keep reminding myself that exercising and eating healthy is about more than loosing weight, fitting in my pre-preggo jeans, and getting my old hot bod back...it's about my health. Even if the scale isn't always my friend, my health is thanking me for the choices I am making. This weight loss journey is just going to take some time, I can't rush it.
So if you feel so inclined, please give me some encouragement peeps...I could use it.